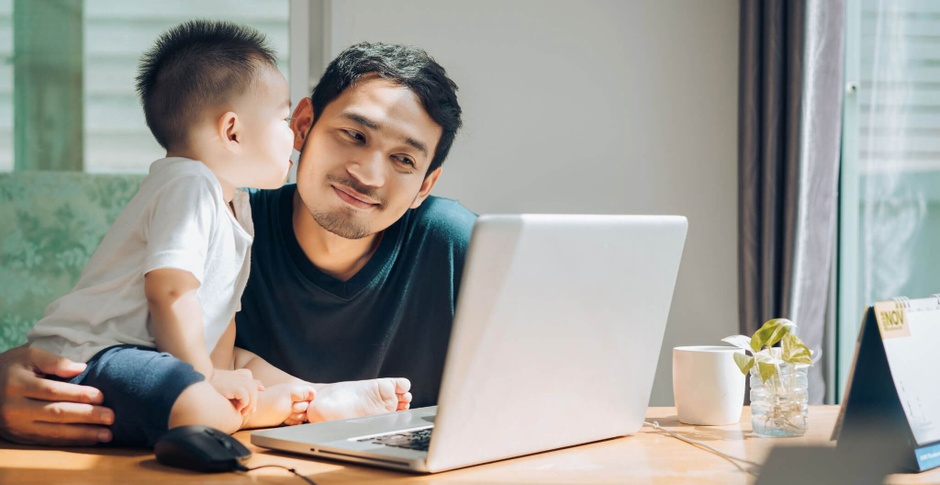 How to Motivate Employees: Spotlight on Paternity Leave in Malaysia
New talents are putting more importance on work-life balance. This includes providing paternity leaves so men can focus on their roles both at work and at home.
In a traditional Asian family, men are regarded as the primary breadwinner. When starting their own families, it's often the woman—the mother of the child—who takes on childcare responsibilities. This is evolving, though, as millennials rise in the workplace. They advocate a work-life balance that, when achieved, makes them more engaged, productive employees.
Given this evolving mindset, Malaysian employers may need to adapt and include paternity leave in their company benefits. Like any business decision, providing paternity leave has its pros and cons.
Pros of providing paternity leave
1. Positioning the company as an employer of choice Even with the growing demand for it, only a few employers provide generous paternity leaves to their employees. Providing paternity leave benefits means that employers can differentiate themselves from other companies, and have an edge when hiring the best talent.
2. Boosting employee morale A father with a newborn child getting the support of his company means so much. He gets to accomplish his role as a father, and spend time with his child. Having this paternity leave encourages the father to be engaged in his child's upbringing, leading to stronger ties in the family. This indirectly translates to boosting of employee morale. The happy father returns to work, seeing that his role as a father is important as is his role at the office. 
3. Encouraging employee productivity As mentioned earlier in the article, paternity leave benefits encourage employees to live holistically. They can embrace being a father and a husband, without needing to sacrifice being an employee. Getting paid paternity leave also gives the father enough time to care and bond with their newborn baby. With a resolved disposition, he can focus on his work more, translating to better focus and productivity.
Cons of providing paternity leave
1. Cost of paternity leave While multinationals and large companies can afford to provide paternity leave benefits, the same might not be true for smaller ones. While the increase in morale may boost productivity, there is also a possibility that total productivity might suffer due to extra work and shared duties.
2. Society expectations While the world is still constantly evolving, there is still a stigma against Asian men taking long paternity leaves. The traditional gender role of the male breadwinner is one barrier to paternity leave programmes in many organisations.
How can human resource (HR) professionals balance the pros and cons and meet this growing demand?
Three tips for developing a paternity leave policy
1. Project the costs of paternity leave benefits. Before deciding on a paternity leave scheme, it is crucial to check its feasibility in terms of finances. Use past data to get an estimated cost of employee benefits. From this, employers can decide on a scheme that will be fair to the employee and the company. At the same time, this should be a sound decision in terms of expenses, and the benefits of having a good company reputation.
2. Encourage collaboration to share the workload. Ensure that employees planning to take paternity leaves advise you a few months prior to their leave. This way, his team can plan and manage the workload even in his absence. HR can encourage team members to work more collaboratively and efficiently and give them rewards when they achieve their collective goals. With the rewards system in place, employees can feel happy that they are stepping up and taking on extra work. This can also be more cost-efficient as compared to hiring a temp to fill in a role. 
3. Check the human aspect of paternity leaves. Check the labour laws with your legal counsel to ensure that you are abiding by employment laws and not violating any discrimination law.
As an HR professional, you are also in a position to encourage fathers to spend time with their child. One way to do this is for them to see role models, such as top management leaders, do the same: take an extended paternity leave when they have a newborn. This not only inspires them to take on one of the most important roles they'll have, it also tells them that the company values them as a person and not just an employee.
Studies have shown that fathers who take time off from work to spend time with their child are more involved in their child's development. With more attention being paid to the evolving role of fathers, there's an increasing pressure on companies and governments to provide adequate paid paternity leave. Will employees remember your company as an early adapter to this shift? And will your generous paternity leave benefits put you in the map as an employer of choice?
Achieve your company goals while staying competitive. Find the right talent for #JobsThatMatter to your business by using Talent Search and have access to one of the largest talent databases in Southeast Asia. Visit our Laws of Attraction portal to learn what motivates over 10,000 Malaysian candidates in 25 industries. For more practical advice, expert insights, and industry news, check out our Employer Insights page. 
At JobStreet, we believe in bringing you #JobsThatMatter. As a Career Partner, we are committed to helping all jobseekers find passion and purpose in every career choice. And as the number 1 Talent Partner in Asia, we connect employers with the right candidates who truly make a positive and lasting impact on the organisation. 
Discover Jobs That Matter. Visit Jobstreet today.
SEEK Asia, a combination of two leading brands Jobstreet and JobsDB, is the leading job portal and Asia's preferred destination for candidates and hirers. SEEK Asia's presence span across 7 countries namely Hong Kong, Indonesia, Malaysia, Singapore, Thailand, Philippines and Vietnam. SEEK Asia is part of the Australian Securities Exchange-listed SEEK Limited Company, the world's largest job portal by market capitalisation. SEEK Asia attracts over 400 million visits a year.
SEEK is a diverse group of companies, comprising a strong portfolio of online employment, educational, commercial and volunteer businesses. SEEK has a global presence (including Australia, New Zealand, China, Hong Kong, South-East Asia, Brazil and Mexico), with exposure to over 2.9 billion people and approximately 27 per cent of global GDP. SEEK makes a positive contribution to people's lives on a global scale. SEEK is listed on the Australian Securities Exchange, where it is a top 100 company and has been listed in the Top 20 Most Innovative Companies by Forbes.