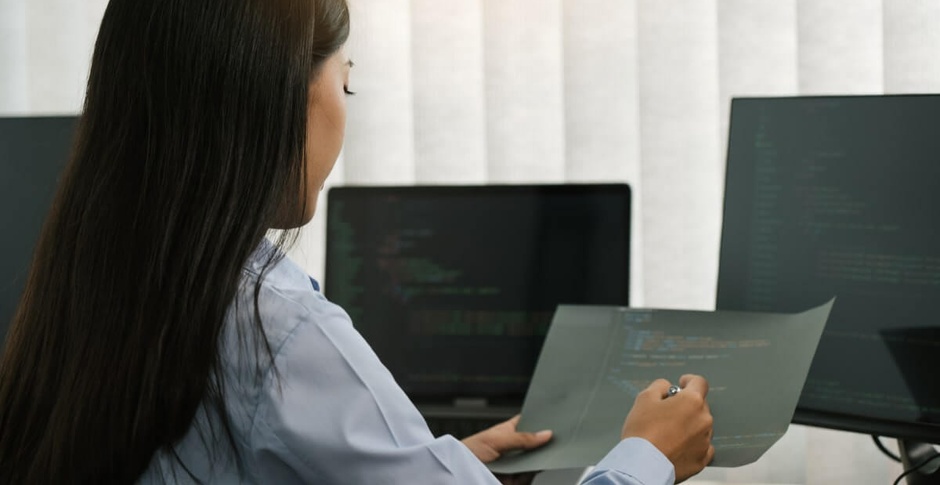 Women in Tech: How the Female Workforce is Leading Malaysia's Digital Industry
The idea of women taking on tech jobs isn't entirely new. After all, the history of tech is graced by several women who revolutionised the industry, such as Ada Lovelace, Hedy Lamarr, and Grace Hopper.
In recent times, women in the workforce have continuously proven to be valuable assets, whatever the field and in all experience levels. Still, while we may be living in progressive times, the call for equal recognition and opportunities continues. Women in tech facts indicate that women continue to be discriminated against, especially in traditionally male-dominated industries like Computer/Information Technology. Also, the issue continues to persist despite global conversations about gender diversity and equality.
In fact, according to Prof. Dr. Zaidatun Tasir of the Universiti Teknologi Malaysia, women make up only 35% of the Malaysian technology workforce. This minority is despite the great potential for women to excel in the sector. She attributed this to their high soft skill aptitude "particularly in the areas of creativity, effective communication and problem-solving skills."
Gender discrimination in the tech industry
The World Economic Forum cited an April 2021 report which found that 57% of women working in tech experienced gender discrimination in the workplace. Nearly half of the female respondents (48%) for the study also said that this discrimination was directed towards their technical abilities. The report also revealed a gender pay gap that disadvantaged women. More women (35%) said they were unsatisfied with their current compensation compared to their male colleagues (29%).
Along the same lines, multinational professional services network PricewaterhouseCoopers (PwC) found that this gender gap starts at school. According to their survey with over 2,000 A-Level and university students in the UK, an overwhelming 61% of male students said they would consider a career in technology. In contrast, only 27% of female students think about pursuing this route, of which only 3% citing this as their first choice.
In addition, a key finding of the PwC women in tech report says that the shortage of women pursuing tech jobs is due to the lack of information on the work involved in the sector. Also, fewer people suggest it as a career option for them. Then, there is also the lack of female role models. According to the report, only 22% of students can identify one or two famous women in tech. 
The benefits of hiring women in tech
Diversity of thought By raising awareness on the global equality issues in tech, we also bring to light the missed opportunities for businesses. This inequality also results in considerable untapped talent and fields for tech companies. In fact, more and more international studies indicate that having a more diverse workforce makes for better business.
As stressed by tech and digital marketing staffing platform Mondo, having women in any field contributes to the diversity of thought. This trait, in turn, leads to better problem-solving — a statement supported by decades of research. Collaboration is vital to any industry, but most especially for digital work because it increases ideation and innovation. This is especially the case for fields involving user experience and analysing target demographics.
Opportunities for innovation In terms of missed opportunities, Mondo also noted that there is currently an entire marketplace that needs more tech-driven improvements: female-oriented products and services. This lack in tech innovation, they said, is likely a result of tech businesses mostly run by male-dominated corporate leadership. Therefore, women-run tech-driven businesses and women-led teams have a greater chance of successfully tapping into these profitable possibilities.
Boston Consulting Group (BCG) also states several key findings on women in tech. They found that simply adding one woman to a company's board or senior management team corresponds to a higher return on assets of 8 to 13 basis points. Likewise, companies where 30% of leaders are women see a 15% increase in profitability.
It is also important to dispel the misconceptions surrounding women already working in tech. For example, some managers and hirers may still think that women are not willing to aim high in their careers. However, BCG actually found that women are just as driven by ambition: 62% of women who participated in the survey said they were trying for promotion. It is not far behind the 67% of men eyeing the same.
How women in tech are closing the gender gap in Malaysia
Fortunately, Malaysia has started to see more women taking up digital jobs in recent years. In fact, the tech industry has actually been a key driver in increasing the total female workforce in the country. Surina Shukri, CEO of Malaysia Digital Economy Corporation (MDEC), noted this in a March 2021 MDEC press release, adding that Malaysian women working in the technology sector reached 35% in 2021.
Providing women with opportunities and support Shukri mentioned three programmes and initiatives that are currently fueling this growth. Perkhidmatan eDagang Setempat (PeDAS), which assists rural entrepreneurs in selling their products on e-commerce platforms, has a predominantly female participation (79%). Likewise, the eUsuhawan Muda programme attracted 25,713 women (63%), while the eUsahawan Micro programme had 16,718 women (61%) participants. In total, the three programmes trained a total of 220,445 women, which is more than half (54%) of the total attendees.
Going back to Dr. Zaidatun's observations, she also suggested what Malaysian companies can do to help women thrive in tech industries. "In order to capitalise on their strengths, and to grow the local tech sector, there needs to be more opportunities and support systems to draw more girls and women to the tech industry, especially as Information and Communications Technology is viewed as an enabler of economic growth."
This is where institutions like non-profit organisation Women Who Code Kuala Lumpur prove valuable. Apart from inspiring women to excel in technology careers, they provide members with coding resources, leadership opportunities, job opportunities, scholarships, and global community support. The Kuala Lumpur chapter of Women Techmakers by Google shares the same goal and provides similar benefits. Both make sure that women in tech are given visibility, community support, and resources to help them excel in the field.
Malaysian women thriving in the industry Role models play an important role in motivating more women to pursue a fulfilling tech career. Malaysia actually has a number of prominent female leaders and successful women in tech. Kuala Lumpur-raised Tan Hooi Ling partnered with Anthony Tan to create the ride-hailing service Grab. Back then, they called it MyTeksi/GrabTaxi, from the idea they explored for a Harvard Business School project. Interestingly, the inspiration for the mobile app came from Anthony's friend, who raised safety issues that female taxi passengers regularly face in Malaysia.
Another outstanding woman in Malaysia's tech industry is Goh Ai Ching, who co-founded Piktochart in 2012 with Andrea Zaggia in Penang. Inspired by their dedication to make visual communication easy, they envisioned Piktochart as an intuitive, all-in-one visual storytelling solution. Presently, their clients include Disney, Booking.com, United Nations, Verizon, and Accenture.
All these clearly point out that tech employers in Malaysia greatly benefit from the talent, dedication, and innovation that women can bring to the company. As such, it is important that hirers recognise the value of women in tech. Also, when hiring, they should take note of what tech workers are looking for, being mindful of gender bias in opportunities and compensation. This way, they can attract and retain the best talent and establish a diverse and well-rounded workforce. 
Ready to bring female talent and tech expertise to your company? Visit the Employers Insights page to stay updated on the latest hiring and talent acquisition trends. Don't forget to explore the Laws of Attraction to get a better view of Malaysian talents from across different industries, levels, and specialisations.