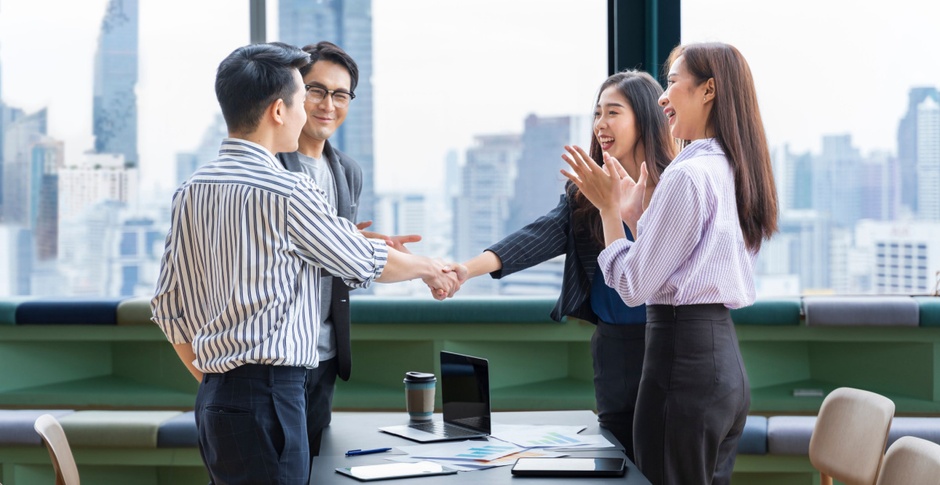 Why Is Branding Important? Plus 6 Branding Tips for SMEs
Technology has changed the tools for recruitment, making the hiring process faster and more efficient. But how exactly do you use technology to improve your recruitment? We suggest equipping yourself with branding tips for SMEs (small and medium-sized enterprises). Why? Because employers who take the time to brand their company have a better direction, and therefore workers are happier and more secure.
Yes, employer branding is another way that can improve recruitment. But why is branding so important? What does it do for a company?
Branding 101: Everything Employers Must Know
Branding used to be geared toward only consumers. Elements such as your company logo, tagline, and messaging all work to enhance the target market's perception of your brand. This kind of branding builds consumer trust and loyalty and ultimately boosts profits. But these days, branding is not just about creating a fancy company logo. It is also what your company stands for, your values, and how you show those values to your consumers.
1. Do your research Understand your customers. You will not be able to start your business without knowing your market. When you finally understand your consumers, move to competitive research, as this will tell you how other companies are in terms of visuals, identities and themes.
You need to keep up to date as trends change, too.
2. Create assets In terms of logos, colour palettes, typography, iconography, photography and graphics, and style guide, assets are important.
3. Remember the 3Cs Always remember the 3Cs and how they can help create your assets: clarity, consistency and commitment.
Clarity Be clear on relaying your message to employees. If they have to think hard about what your business is about, then you have not done your job properly.
Consistency Everything has to tie together, from the billboard to your Instagram, because it creates a sense of confidence and discipline that your customers will see.
Commitment It takes time to create your company's brand. So, do not be disheartened when your ads do not reach a certain demographic. But as they say: try, try, and try again.
4. Define your brand story You need a story for your brand before you can cement your brand identity. It is usually about why you started your business.
Try attempting to answer these questions as you go along the way: 
What does the brand believe in?

What problems does your product or service ease?

How does it solve these problems?

Why did you make a decision to alleviate those complications?

Where do you see your business in a few years?

How many employees do you need?
Ruminating on your answers to these questions will help you when trying to brand your company. It is not just about how you briefly introduce yourself to your consumers. It is also about how the brand you made will relate to the consumers and why you decided to produce it.
Branding Myths, Debunked!
You might come across these three branding myths that some businesses have fallen into a trap. Play it smart.
Branding Myth #1: "Branding is important only when our business is growing." Branding will always be important at every stage of your business development. It has to have some identity for your consumers to like your brand. Investing in your brand's identity will be a great asset to your business.
Branding Myth #2: "I can't afford that expense!" Branding can be useful for you and not an expense. You can think of it as an investment, just like when you think of buying something expensive as an investment. And if your company identity is favourable, you don't have to spend so much money on recruitment. Updating your web page and social pages and posting a few job ads can translate to big returns.
Branding Myth #3: "Branding is too complicated for my business." Do not think of it that way. You may think branding is complicated, but really, it is simple. Organise, identify your story, and make it clear, cohesive, and repeatable.
Remember that enigmatic person you used to hang out with that just seems to attract the right people or things? You want that to happen to your business as it grows. You want to attract loyal customers that will remember you as time goes by.
1. Be memorable, not modern Why change something when it is already working for you? Adapting to today's society is good, but changing something that has been a staple for your existing customers might backfire. At the same time, adapting to modern ideals can also cause your company to move upward and not stagnate.
2. Update and monitor your social presence Use social media to your advantage. And when we say social media, we mean all of it. Most people have multiple platforms; some do not have all of them. When you create social profiles, make sure to incorporate your brand's look, feel, and messages the same on all platforms so as not to confuse them.
3. Get customers and influencers to work on your brand's behalf Get your customers and influencers to tag you when they buy something from your brand or use your services. That way, people will see it and start thinking of buying from you. Reviews from people go a long way and are a good tactic to strengthen your brand.
4. Deliver content your audience can use Research, research, research! Brands need to collect information to make a decision about their products or services.
5. Create an experience, but do not forget about everyday interactions Do not make things complicated for your consumers. Make sure to make their shopping or availing of your services easy, fast, and efficient.
6. Take a stand and define your values Stand up for what you believe in. This may be standing up for social justice, the environment, or even a business practice at work. Just make sure that whatever you choose will be what your brand is about. (Read more: 5 Ways For SMEs To Boost Employee Engagement)
It's not just the competition from across the street anymore. There are a lot of businesses popping up online, and you have to be on your toes to keep up. For your business to stand out from that of your competition, you need to start with a good brand identity.
This is exactly why remembering these branding tips for SMEs is important. A strong, memorable brand will give you potential employees who come in because they find that their values line up with the values of the company they are complying for. 
It's never too late to start building a strong employer brand. We have equipped you with all the branding tips for your business and explained why branding is so important these days.