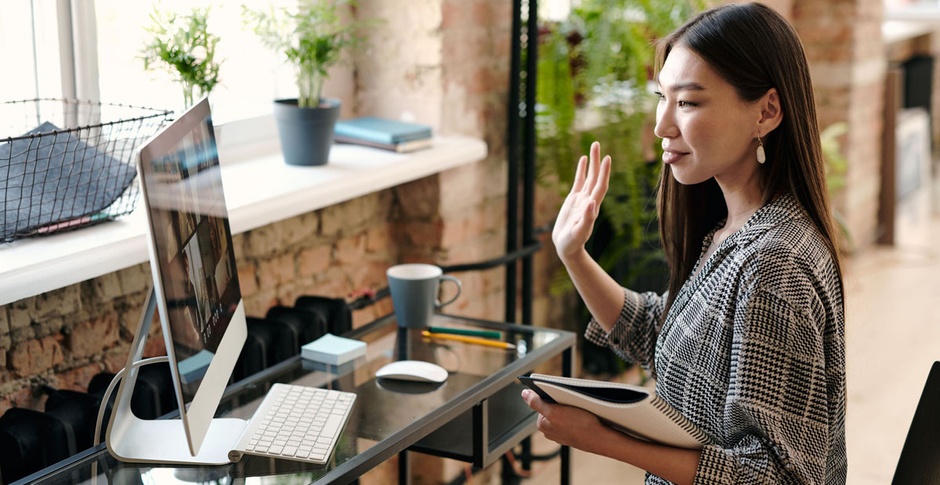 How to onboard staff remotely
There's plenty to consider when you're bringing a new employee onboard – from meeting the team to being set up with the right tools. But what if the whole process must be done remotely or in a hybrid working environment? 
Hiring and onboarding new employees remotely comes with its own set of challenges and considerations. And when staff are working remotely, employee engagement and company culture needs extra attention.   
With that in mind, how can companies support new employees so they can start work seamlessly and thrive in an organisation? We look at the best practices for onboarding staff and fostering engagement remotely.   
What are the best-practice tactics for onboarding staff? 
A good onboarding process ensures staff are looked after and feel welcome, it starts even before employees officially begin working – it's all about creating meaningful moments and begins even before employees start.  
Make new staff feel welcome 
Managers should be given an onboarding checklist to complete before their team member starts. A welcome email from their director, or a video call from their assigned company buddy are good to haves. 
Employees can also have one-to-one check-ins with the company onboarding coaches, an online onboarding guide with interactive activities, and then finish with a two-day "business school".  
Make the most of technology 
Without technology, remote working as we know it wouldn't exist. While the technology already existed before remote work became more common for many industries, companies are now embracing tech and using every resource available as we adjust to remote and hybrid work environments. 
It's more important than ever to help new employees feel engaged and connected to their new teams, so use a range of programs and apps to suit your business. This list of tech tools to help your team work remotely is a good place to start.   
Help new employees feel included 
Starting a new role can be nerve-racking for anyone, and it can be harder to break the ice if employees can't meet each other in person. That's where regular video chats can help staff feel comfortable and engaged, and give them that key social connection they would otherwise miss. 
As employees are starting their career journey remotely, it's really important to engage early and use video technology. It's best to communicate this way, and more frequently to start with.  
As hybrid working becomes more common, teams are able to balance in-person meetings with virtual. It's also found that new starters learn best from having others around them, hearing and seeing first-hand how more experienced colleagues work. You should balance virtual training with in-person coaching sessions for new starters. 
Recognise achievements and foster company culture 
Acknowledging an employee's progress and achievements is essential to making staff feel valued. This in turn fosters engagement and boosts productivity. Employee recognition is also key to building a positive workplace culture and retaining top talent. Small acts of recognition and reward can pay dividends.   
Highlight each employee's contribution at a weekly meeting, or more immediately through shared internal collaboration channels such as Slack. You could think about any small gifts you can send, or even food delivery vouchers for a remote lunch.    
While remote and hybrid working creates instances of physical distance that can make onboarding more challenging, lately many of us have seen first-hand how clever use of tech can unite a team. By ensuring the focus is on making your new team member feel welcome, included and part of the company culture, you'll be setting them up for a great start despite the distance between you.